Press Release, November 2019
Banza Raises $20 Million to Upgrade America's Favorite Foods with the Power of Chickpeas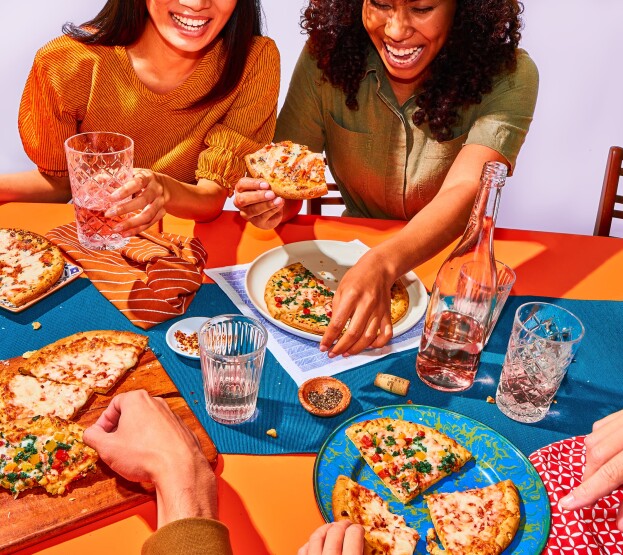 NEW YORK, Nov. 12, 2019 /PRNewswire/ — Banza, the fastest growing pasta brand in the country, today announced $20 million in growth funding, led by Enlightened Hospitality Investments — the growth equity fund affiliated with Danny Meyer's Union Square Hospitality Group – and Prelude Growth Partners — a consumer product goods focused growth equity fund. The capital will primarily be used to grow Banza's team, support marketing efforts and commercialize its product pipeline.
Brothers Brian and Scott Rudolph launched Banza in 2014 to make nutritious food more accessible in the U.S. by reimagining comfort food classics traditionally made with wheat, corn, and rice, with chickpeas, one of the most efficient and sustainable protein sources on the planet.
The company first launched with delicious chickpea pastas that have nearly double the protein, three times the fiber, and one-third fewer net carbs than traditional pasta — a comfort food staple that Americans eat 2.7 million tons of per year. Today, Banza is the fastest-selling pasta brand in Whole Foods and Target and is available in 12,000+ retailer doors nationwide.
"It's hard to imagine more impactful partners than EHI and Prelude, given their unique strengths across foodservice, brand building, and team culture," said Brian Rudolph, CEO and Co-Founder of Banza. "Their combined expertise will help us realize our mission of making nutritious, sustainable foods more accessible."
Beyond pasta, Banza recently launched chickpea mac & cheese and chickpea rice, and with this latest funding, the team will continue to reimagine other mealtime comfort foods. Additionally, Banza will scale investment in its US-based supply chain to fuel future growth. The company opened its own manufacturing facility in California to keep up with the growing demand for its products from consumers and retailers alike, increasing its capacity by 10x, and has partnered with U.S.-based chickpea farmers.
Enlightened Hospitality Investments brings not only capital and deep expertise in foodservice, but also an unparalleled focus on hospitality and people that aligns with Banza's values. EHI provides strategic and operational guidance in partnership with the team at Union Square Hospitality Group, which operates some of the country's most beloved and acclaimed restaurants, including Gramercy Tavern and Union Square Cafe, and also founded Shake Shack. Prelude Growth Partners brings a powerful network in the consumer packaged goods industry and deep experience building and scaling global iconic consumer brands.
"At Enlightened Hospitality Investments, we invest in ideas we wish we'd thought of ourselves and companies run by people we wish we had hired ourselves," said Mark Leavitt, Co-Founder and a Managing Partner at Enlightened Hospitality Investments. "Our investment in Banza, a company that is successfully disrupting categories that consumers love but where they have been offered little in the way of innovation, is a perfect example of our strategy being put to work. We have been closely watching consumer interest in plant-based protein within the Foodservice and CPG industries and are excited to watch Banza continue to capitalize on these trends."
"The consumer packaged goods industry is being regenerated, driven by the needs of the Millennial consumer," said Neda Daneshzadeh, Co-Founder & Managing Partner at Prelude Growth Partners. "Prelude's proprietary research indicates that Banza is resonating deeply with Millennials driven by its nutrition-rich and delicious product offering in a category which has seen very limited innovation. Banza also brings a sustainability lens to this space, which is increasingly an important factor in consumers' purchasing decisions. We look forward to partnering with the Brian, Scott and the management team as they continue to reinvent beloved food categories and develop Banza into an iconic, powerhouse brand."
For more information on Banza and its products, please visit www.eatbanza.com.
About Banza
Banza, founded by brothers Brian and Scott Rudolph, is the fastest growing pasta brand in the U.S. On a mission to make nutritious food more accessible, Banza reinvents your favorite comfort foods using chickpeas. Banza's chickpea pasta has nearly double the protein, three times the fiber, and one-third fewer net carbs than traditional pasta. Chickpeas are fantastic for human health and the environment, but we only eat one third of the recommended daily value of legumes. Banza's long term ambition is to fill the gap, by transforming legumes into the foods we know and love, like pasta, mac and cheese, and rice.
Since launching in retail in 2014, Banza pasta has expanded to over 12,000 stores nationwide and is the fastest-selling pasta at both Whole Foods and Target. The brand has gained recognition as one of TIME Magazine's Best Inventions of 2015, and been featured in the New York Times, The Today Show, and Good Morning America. For more information about Banza, please visit www.eatbanza.com.
About Enlightened Hospitality Investments
Enlightened Hospitality Investments (EHI) is a value-added strategic investor formed to leverage the brands, businesses and team of Union Square Hospitality Group to identify growth potential and investment opportunities in both internal and outside ventures. EHI partners with portfolio companies to provide strategic direction, operational expertise, increased visibility and access to relationships, resulting in significant value creation for all stakeholders. For additional information on Enlightened Hospitality Investments, please visit www.ehi.fund.