Fly by Jing, March 2023
Fly By Jing Raises $12 Million in Series B from Prelude Growth Partners and Pendulum®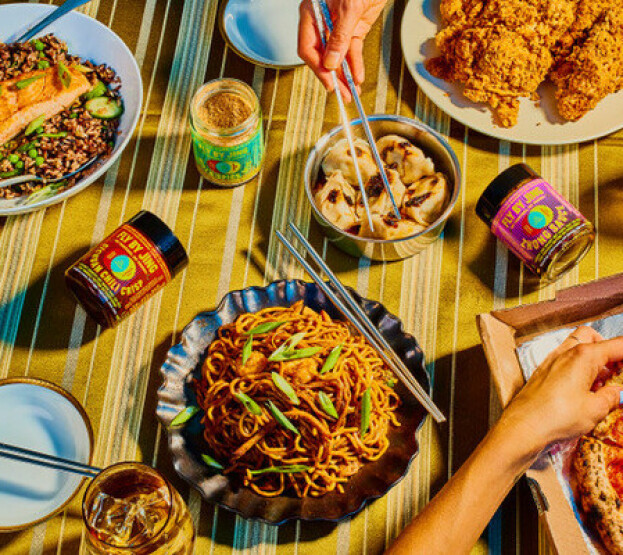 Capital Accelerates the Chinese Pantry Cult Classic to Scale as a National Heritage Brand
LOS ANGELES, March 8, 2023 /PRNewswire/ — Fly by Jing, the first modern Chinese food brand that popularized chili crisp, has secured $12M in Series B funding to continue its explosive growth. Fly by Jing's existing investor Prelude Growth Partners funded the round alongside Pendulum. The capital positions the company for continued significant growth by propelling it into Kroger, Albertsons and other national grocery retailers, in addition to the existing 4,000+ doors the brand is already in, including Whole Foods Market, Wegmans, Target, and Costco.
In addition to being the first modern Chinese food brand on the market when it launched in 2018, Fly By Jing's hero product, Sichuan Chili Crisp, became one of the top-selling hot sauces on Amazon in the U.S. shortly after launch and has since become one of the fastest-growing condiments on the market, demonstrating the product's wide appeal and trajectory to become the new standard for hot sauce among American consumers.
"I'm so proud of the Fly By Jing team and how far we've come in four short years to transform the 'ethnic aisle' of the grocery store into a destination of bold, global flavors and innovation," said Jing Gao, Founder of Fly by Jing. "In the continued, unwavering support from the woman-led team at Prelude Growth Partners, combined with Pendulum's dedication to underrepresented founders of color, Fly by Jing has the kind of guidance and stewardship that will truly make it a household name. We look forward to partnering with our retailers to make our flavors accessible to even more people and to further our mission to evolve culture through taste."
As has been widely documented, women are massively under-represented when it comes to capital and fundraising, and the data is bleaker still for women of color. Fly by Jing's Series B is hence even more significant as it also deeply matters where founders of color accept capital from, and why. Fly by Jing's existing investor Prelude Growth Partners is a firm founded by two women, while Pendulum is an inclusive and strategic growth investing and advisory platform designed for founders of color. With this capital and guidance in her corner, Gao is now poised to make Fly by Jing a national heritage brand, moving past the startup stage while paving the way for other AAPI brands to follow suit. Continuing to build on that momentum, Fly by Jing has also made two executive level hires with new CFO/COO Matt Dunaj (formerly of Follow Your Heart) and Chief Commercial Officer Jason Parasco (formerly of Sovos/Raos) joining the team.
"We are thrilled to continue our partnership with Jing and her exceptional leadership team to build one of the most disruptive condiment brands in America," said Neda Daneshzadeh, Co-Founder of Prelude Growth Partners. "The brand has become a cult favorite by bringing authentic, bold flavors to the category and we are excited to further support investment in the company's retail expansion and product innovation strategy."
"Fly By Jing is redefining the condiment category with their popular and ever-expanding line of culturally inspired products," said Robbie Robinson, Co-Founder and CEO of Pendulum. "We're honored to invest in their vision, and believe they – like so many companies led by founders of color – are poised to grow formidable businesses, while remaining authentic to their brand."
About Fly by Jing:
Where highly charged flavors meet 100% real ingredients: Fly By Jing is the first premium Chinese food company that brings thoughtfully crafted pantry staples to the modern kitchen. Developed by Jing Gao, a chef, entrepreneur and renowned expert on Chinese cuisine, the Los Angeles-based company is on a mission to bring uncensored Chinese flavors to the table. Fly By Jing's hero product, Sichuan Chili Crisp, became the top-selling hot sauce on Amazon within six months on the platform, and its products can be found at Target and Whole Foods Market locations nationwide. The company has been featured in the New York Times, Wall Street Journal, Bon Appetit, Food & Wine, Los Angeles Times, Fast Company, Forbes, and more. Learn more at flybyjing.com and at @flybyjing.
About Prelude Growth Partners:
Prelude Growth Partners, based in New York City, is a growth investor focused on providing capital and value-added support to fast-growing, high potential consumer brands with a passionate consumer base. Prelude focuses on building iconic consumer powerhouse brands through its world-class set of value-add strategic and operating resources and industry-specific network. Prelude invests across branded consumer categories including food & beverage, personal care & beauty, health & wellness, pet and other consumer categories. For additional information on Prelude Growth Partners, please visit www.preludegrowth.com.
About Pendulum:
Pendulum is a strategic investment and advisory platform. Founded in 2019 by D'Rita and Robbie Robinson, Pendulum reimagines how great companies and brands are built–and who gets to build them. Through its investment arm, Pendulum Opportunities, and strategic advising arm, Pendulum Partners, the firm seeks to accelerate opportunity and value creation for founders and leaders of color. Pendulum Opportunities invests in momentum building businesses meeting the evolving expectations of a values-driven consumer. For more information, visit http://pendulumholdings.com/.
Media Contact:
Emel Shaikh
949.232.9249