Forbes, April 2022
Forbes: Blueland Raises $20 Million to Eliminate Single-Use Plastics From Home Cleaning
Blueland has pioneered the refillable home cleaning products category by eliminating single-use plastics. The direct-to-consumer brand today announced that it has secured $20 million in additional funding, led by female-founded Prelude Growth Partners and with 95% female investors. "Our environmental mission continues to resonate with and attract new consumers," says Sarah Paiji Yoo, the cofounder and CEO of Blueland.
With nearly 40 patents and patents pending, since 2019 Blueland has helped divert over one billion plastic bottles from landfills and oceans. The company grew over 400% in its second year of business. All products are designed in tablet or powder form so that they can easily be mixed with household tap water, saving consumers money and shelf space while also saving the planet.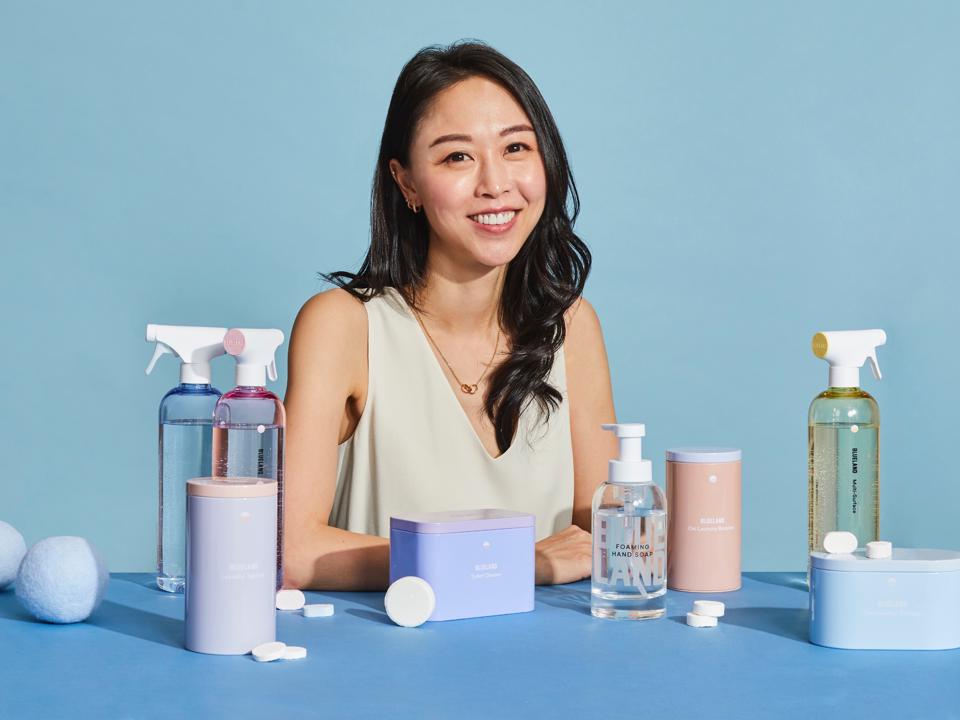 Yoo has been a serial entrepreneur for over a decade, having launched three prior companies in the fashion and beauty space. This is the first business she has launched as a mother, however. "Having a child, I developed a deep-seated desire to do something more meaningful," Yoo says. "And surprisingly, instead of focusing my time and energy on just my own family, I developed a strong urge to want to do something to help create a better world for all future generations."
As a new mom, Yoo became passionate about curbing her own waste and single-use plastic consumption. She decided to flip conventional notions of "eco" on their head by making environmentally-friendly products that are actually more effective, affordable, and convenient than traditional products. Blueland works not only to eliminate plastic packaging, but also reduce the carbon footprint, energy and water usage, and waste sent to landfills.
"The entrepreneurial journey can be grueling, especially on top of balancing a growing family," Yoo says, "but our mission and purpose has been a source of energy, optimism, and inspiration. Over the course of my career, I have learned that it's not the title or the money that drives fulfillment. Rather it comes down to if I am growing, learning, excited about what I'm working on, spending time with people who energize me and push me to be better every day, and making a positive impact on the world."
Blueland saw a dramatic increase in sales as a result of the arrival of the Covid-19 pandemic and the resulting cleaning frenzy. Sales did not decrease in the following year, however. Instead, Blueland continued to see rapid and impressive growth. The company donates to numerous environmental causes, including wind farm development in South Dakota, coral reef revitalization in French Polynesia, grassland protection in Colorado, and tree planting across the globe.
"Start before you're ready!" Yoo advises young people looking to build impactful careers. "Most of the time, you're not going to feel 100% ready, or 100% prepared, or 100% not scared. Think of how far you can be by next year if you just start today. It is unfortunate that doubts kill way more dreams than failure ever will."