HYPEBEAST, August 2022
HYPEBEAST: Fly By Jing and Shake Shack Ready a Chili Crisp Menu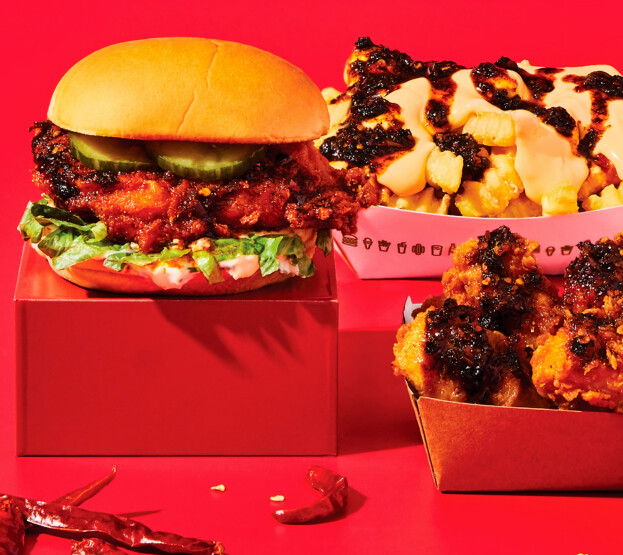 For its latest collaboration, Shake Shack has teamed up with Los Angeles-based cult Chinese pantry brand Fly By Jing. The Fly By Jing x Shake Shack collaboration comes in the form of a Chili Crisp menu packed with heat, exclusive to the United Kingdom.
Founded in 2018, Jing Gao created Fly By Jing to share the flavors of her hometown in Chengdu, China through condiments defined by deep nutritional richness accented by the spicy tingle of erjingtiao chilis and tribute peppers.
Marking Fly By Jing's launch in the U.K., the collaboration is led by the Chili Crisp Chicken, a crispy chicken breast glazed with spicy Sichuan chili crisp topped with pickled cucumber, shredded lettuce and spring onion mayo held between a toasted potato bun. Accompanying items include Chili Crisp Chicken Bites served with spring onion mayo and Chili Crisp Cheese Fries topped with Shack cheese sauce and spicy Sichuan chili crisp.
"This new menu was inspired by the bold flavors and natural ingredients of Fly By Jing's Chili Crisp. With its signature, tingly Sichuan heat and savory spices, Fly By Jing's Chili Crisp is a truly delicious pairing to our crispy chicken." says Jim Frisch, Shake Shack's International Culinary Director.
The Fly By Jing x Shake Shack Chili Crisp menu is available now until September 30 at Shake Shack locations throughout the United Kingdom.
For more food and beverage news, Heinz 57 readies a new line of Infused Honey and Culinary Crunch sauces.