WWD, August 2019
WWD: Influencer Brand Summer Friday Lands Investor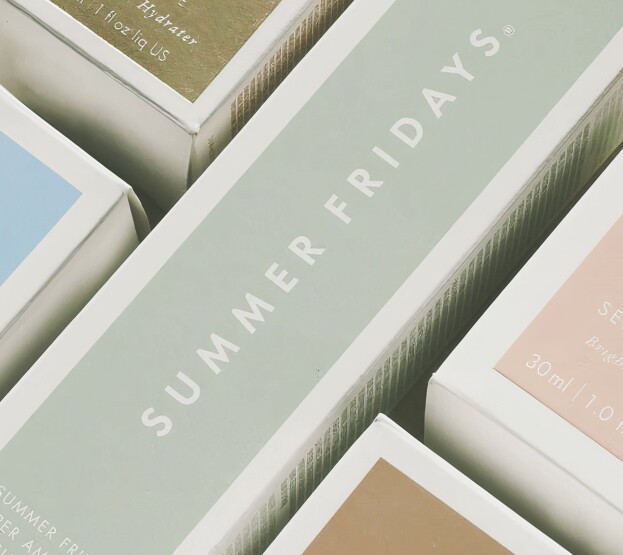 Summer Fridays was founded by influencers Lauren Gores and Marianna Hewitt.
Summer Fridays – the influencer brand behind Jet Lag Mask – has just raised its first outside capital from Prelude Growth Partners.
The skin-care brand was launched by Marianna Hewitt and Lauren Gores in 2018, and now has three products: Jet Lag Mask, $48, Overtime Mask, $44 and R+R Mask, $52. Terms of Prelude's minority investment were not disclosed. The brand plans to use the funds to build out its team, develop new products, drive growth with retail partners, expand internationally and expand marketing efforts.
"There's been magic in building something using a nontraditional roadmap," Gores said. "Marianna and I obviously don't come from traditional beauty backgrounds, so we wanted partners who could guide us in those areas that we're really unfamiliar with, while also pushing us to maintain our approach in using our intuition [and] using our ability to really ask our community what they want from the brand."
While the Summer Fridays founders had expertise in marketing, product development and social media, they weren't experienced in sales or operations, Hewitt noted, even though they did play those roles. "As we've gotten into it, we've realized we don't know that," she said.
But with Prelude, which is also run by two female founders – Alicia Sontag, former global president of beauty for Johnson & Johnson and L Catterton veteran Neda Daneshzadeh
Summer Fridays found guidance long before a deal materialized.
"We were so fortunate to be able to launch with Sephora before we had even launched the brand, but the moment you go into such a large retailer you have to function like a large company very quickly," Hewitt said. As a not-so-large company, she and Gores would call on Prelude for guidance, and eventually decided to take an investment in order to capitalize on the brand's momentum.
We had a really strong first year and the brand grew a lot faster than I think we could have anticipated, which is always a good problem to have, but with that, Marianna and I really want to build on our momentum," Gores said.
Summer Fridays, which is less than two years old, has had an unusual trajectory.
Hewitt and Gores, who both have substantial followings on social media, started working on the business in 2016 before unveiling the concept in late 2017. Sephora picked it up quickly, launching it in early 2018 and helping to propel Jet Lag Mask into a bestseller. Before long, Summer Fridays was picked up by Cult Beauty and Mecca. Now, it's also sold in Sephora Canada. Sephora Europe and Selfridges.
Summer Fridays has gone for the one-off product launch strategy. According to Hewitt and Gores, that's allowed each one of the brand's masks to enjoy a solo moment in the spotlight.
"It allows people to get to know a product well. It allows you to use it for a few months, introduce it into the routine…it's tricky to launch a number of things at once, and then say, 'OK, you need to switch over your entire routine,' especially if people have been using a product for a really long time, Gores said. "Launching one at a time allows them to slowly add it in."
It's different than the old-school beauty move of launching an entire range at a time. And it's working Summer Fridays is said to be growing quickly, and on track to do $20 million in retail sales for 2019.
While the brand has picked up steam through paid and organic influencer content, it has also gained traction through retail partnerships and press mentions, Hewitt said.
Over time, in-real-life activations have become just as important as connecting with their respective influencer networks, the duo have found. Jet Lag mask picked up steam in part due to social media posts from celebrities including Jessica Alba and Kim Kardashian West. But Gores and Hewitt quickly realized they needed to make the brand accessible outside of those circles.
"From our very first launch. Lauren and I invited so many influencers, but what we heard from our followers is that they would see these influencer parties online and feel like, 'OK, these are cool to watch but I'm not a part of it.' So for each launch since then, we've opened up tc the public as well and have invited our fans to come experience the event," Hewitt said.
The results have been community-building, Hewitt and Gores noted.
"AS much as we can connect with people online and it gives you this incredible ability to reach massive amounts of people at once, it doesn't give you a chance to really connect in person," Gores said. "Having moments like [the Summer Fridays pop-up phone booth in February] not only gives Marianna and a chance to connect with people, and for them to connect with each other, it allows them to really be present with our brand in a different way that's more than through a screen."
Beyond the flower-filled Instagrammable phone booth pop-up, Summer Fridays also executed a partnership with coffee shop Alfred, which the founders said helped expose the brand to people who weren't necessarily following their social media journeys.
For the brand's next launch, which is coming in September, they plan to take over the Moon Juice shop on Melrose Place for weekend. "It's great to create these organic Instagram moments it's not just a photo moment, it's experience that you want to share," Hewitt said.
While Hewitt and Gores are pros when it comes to social media, they don't think of Summer Fridays as just an influencer brand. "We always wanted it to live beyond us, and it was why we didn't name the company after us," Hewitt said.
But they definitely do use their social skills to benefit brand building, crowdsourcing ideas and making Instagram story-based polls for instant feedback.
"After we launched, we had such a close relationship with our community online and they asked tis over and over again for certain products and [about] their top skin-care concerns, and we took that data over the past year and a half and we kept seeing the skin-care concerns that rose to the top," Hewitt said. "We look at also the product requests they were asking us for, and then we looked in our product pipeline, what fits our brand, and so now we've been able to take that data and take a little bit of the guesswork out of it and create the products that we already wanted to create while addressing the concerns that are most important to our consumers."